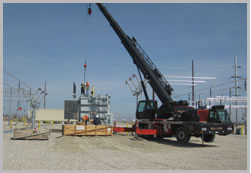 Transformer Services Inc. has completed transformer installation projects throughout the United States and to international customers using products from a wide variety of transformer manufacturers. Our experienced crews can handle any power transformer, large or small, from receiving inspection to complete assembly and testing.
Receiving Inspection
We perform a unit comprehensive inspection upon arrival at transformer locations:
Dew Point Test
External inspection of transformer and accessories
LTC Compartment
Control Cabinet
Radiator and Radiator Valves
Inspect condition of crates
Check for positive tank pressure
Check for oil leaks
Review the Impact Recorder data:

Note impact greater than 3 g
Contact owner immediately for impacts greater than 5 g

Core to ground test
Collect sample of bulk oil and test before filling transformer
Complete Assembly
We install all transformer parts and accessories in accordance with manufacturer specifications.
Vacuum Oil-Filling and Dry-Out Process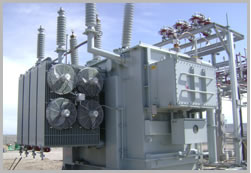 TSI provides the necessary equipment and technology to meet manufacturer requirements for vacuum degasifying, dehydrating, vacuum oil filling, and on-site dry-out. Our dry-out process removes excess moisture from transformer paper insulation, insulating oil, bushing turrets and other cavities
.
Perform a dielectric test of the oil before filling the transformer
Pressure test the unit to ensure the vacuum integrity of the transformer
Perform Vacuum Drop test
Heat the oil up to 90° C and oil fill under vacuum
Fill the transformer with oil at a rate specified by the manufacturer or customer per OEM specifications
Apply nitrogen blanket
Upon completion, an oil sample is collected and tested to establish a base for trend analysis.