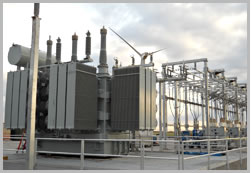 Transformer Services Inc. provides periodic service and scheduled maintenance to help extend the life and improve the reliability of transformers, circuit breakers, switches and other high voltage equipment.
Services include:
Transformers, thru 750MVA at 550KV
Replacing pumps, coolers, fans and radiator assemblies
Cleaning or replacing bushings
Replacing gauges
Internal inspection and repairs
Re-gasketing
Load Tap Changer servicing
Electrical testing
On-site painting
Circuit Breaker Service
Upgrades to electronic trip units
Circuit breaker disassembly, cleaning and lubrication
Circuit breaker primary and secondary injection test
SF6 refill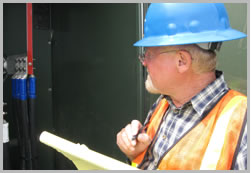 Circuit Breakers Repairs
In most cases, breaker failure is misdiagnosed as a transformer related problem. This is common for GSU units at windmill generation systems. Our technicians perform preventive maintenance and on-site testing in accordance with manufacturer specifications.
Services include:
Cleaning
Lubricating moving parts
Burnishing and adjusting contacts
Repairing or replacing faulty subassemblies
Breakers retrofitting
More extensive repairs may require taking the faulty item to our repair facility. TSI maintains in its inventory a limited supply of circuit breakers and associated parts.